I thought about posting this Monday and taking a break this weekend, but I've been on a roll and Mason has been sleeping/napping well today so I have time to write now!
This is my last post with the Emergent Writing. I plan on taking pictures and posting more once the school year starts (which is one week away for me! Yikes!). I really want to be a better blogger this year. We'll see how it goes =)
As I have admitted, writing is my weakest subject. In my 13 years of teaching K, I have never felt that I do it justice. I have some decent writers at the end of the year, but I'm sure I could have more if I buckled down and stuck to a plan.
I am a huge advocate for Daily Five and I read the 2nd edition earlier this summer. When I saw the big change in its order of introduction, I knew I would have to change some things in my room.
The big change was that Read to Self was first as usual, but Work on Writing was now the second area to teach!
What?!
I usually start teaching writing after the 1st grading period. This way students have been gaining knowledge with alphabetic principle, phonics and learning sight words. So now, I need to bump everything up to the 2nd & 3rd week of school.
This is great though, because with what I've learned about Emergent Writing, students SHOULD be writing from the very beginning! So why not teach writing from the very beginning!
While teaching your kiddos about Read to Self, you can also begin mini-lessons with writing. If you've done D5 before, you know that the first few tries to build stamina do not last long. So this leaves plenty of time to do mini-lessons with your Literacy lessons and Writing lessons.
After completing the Picture Task (where I take a picture of them and have them write about it) and assessing students writing abilities, I will be able to see where my main lesson needs to start and what I need to work on when we start breaking in to small groups.
The first thing I want to teach them is how to use the journals in the play areas. After that they I will go into more of a workshop type of lesson.
This year, for my workshops, I'm going to use lessons from this great new product that
I had the wonderful pleasure of reviewing from my friend Crystal Radke.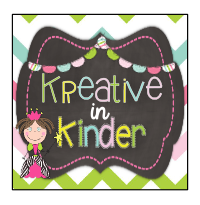 Maybe you've heard of her??
She's pretty amazing and I'm so glad she gave me the opportunity to review her new writing unit!
This 147 page unit has tons of lessons and goes through the step by step process of how Crystal teaches writing in her room. There are even a TON of pictures and examples of just what she's talking about. She suggests starting after the first grading period like what I used to do, but her lessons can easily be adapted to fit into the first few weeks of school.
She explains the following in her unit:
- What is Writer's Workshop
- Time Management (using mini-lessons)
- Starting with Reading (love this because that's what we start with with D5 and she has great pictures for anchor charts to go with this!)
- What is Interactive & Shared Writing? (great for letting the students see you write, like what I talked about with emergent writers)
- Why do Writer's Write? (What is their purpose and what can their message content be?)
- Children are authors too! (Yes!!! Yes!!! Yes!!!)
- Steps in Writers Workshop
-Author Celebrations (sharing their writing with others)
- Utilizing the Writing Center (what do you have/need in your center)
- Writing Resources (different charts and papers to use in your center)
Doesn't this sound/look amazing?!
She also gives quite a few story ideas to help with some lessons. Many are new to me and are already on my Amazon list!
I can't wait to share how my writing lessons go this year. I'm finally excited about writing and I think that's been my whole problem. I've loved teaching my kiddos to read, but have never had a curriculum or unit that has excited me about writing! Now I have a great assessment and a great unit to follow and I hope you do too!
Here are links back to my 3 previous posts or you can search WriteStart.
The Importance of Emergent Writing
Emergent Writing Instruction
Emergent Writing Assessment